Robotic bending technology
Maximum bending freedom. The robotic bending technology combines the greatest versatility in manufacturing steps and simple handling. The robotic head is equipped with a clockwise and counterclockwise bending head, so that bending can happen in both direction once clamped.
The eight synchronized and fully electric axes give maximum versatility when processing tubes. The bending process on tubes, including the processing at the ends and add-on component can be done without any problems. The add-on components can be positioned automatically, if needed. A radii/plane changer with up to 6 tools per bending system is integrated to give maximum flexibility..
Machine sizes/tube sizes
| | |
| --- | --- |
| DB 622-ROBO-R/L | 6-22 mm Ø |
Experience our robotic bending technology in action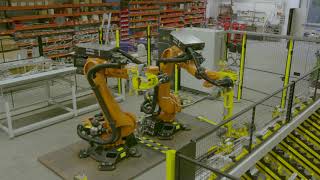 Roboterbiegesystem mit 2 Robotern
Expanded processing, bigger output
The bending cells can be equipped with one or two integrated robotic bending units. With the innovation and development by transfluid, a production cell with two robotic bending machines can not only bend a tube in both directions, but each robot is also capable of processing a different geometry.
A production with one or two robots and without a set-up process makes it possible to bend long pipes with almost no oscillations.