Axial forming machines
Accurate forming with fast tool change. Our type REB axial t form forming machines, with their compression power of up to 1,300 kN are particularly well-suited to effortlessly master complex geometries. With up to 6 forming steps in combination with an additional clamping unit they will satisfy almost all requirements. The operation is simple and intuitive with a touch panel. The sequence control makes each separate movement of the respective forming step user-friendly and fully programmable individually.
We offer the option to equip our systems with electric or hydraulic-numerical drives. These forming processes can be completed stepwise in transfer system to achieve very short cycle times. Simultaneous axis movements ensure fast production processes and an efficient and highly dynamic production.
Machine sizes/tube sizes
| | |
| --- | --- |
| REB 420 | 4–20 mm Ø Compression power 64 kN |
| REB 632 | 6–32 mm Ø Compression power 98 kN |
| REB 645 | 6–45 mm Ø Compression power 147 kN |
| REB 660 | 6–60 mm Ø Compression power 240 kN |
Customer-specific: compression force of up to 1,300 kN
Equipment options:
Servoelectric control of forming axis
Up to an additional 6 forming steps
Supplementary clamping device
Microlubrication system
Tool coding
Tool recognition
Loading and positioning of components
Experience our axial forming machines in action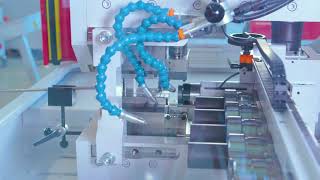 t form: Axiale Rohrendenbearbeitungsmaschine REB 632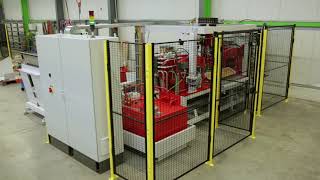 t form: Doppelstauchanlage REB 632 3 2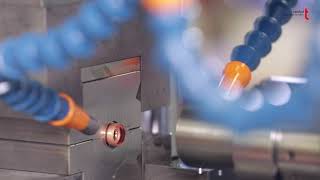 t form: Axiale Rohrendenbearbeitungsmaschine REB 645-VE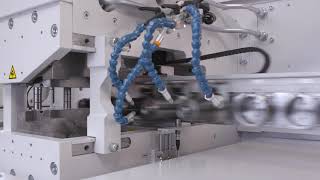 t form: Axial-Umformmaschine mit automatischer Werkzeugerkennung
Extreme
forming deformation
Complex
forming geometries
Visualisation of the
machine parameters
Forming power
up to 1300 kN
Diverse component loading
External items are automatically recognized, loaded, positioned and fixed in place. The loading can be done semi-automatically or completely automatically.