t motion: Automation
for an ideal
production flow
With t motion we plan and execute manufacturing islands or cells for your tube processing with optimized material flow. We design a layout to match your requirements and integrate all the required processing and handling options. With our 25 years of experience with automation we can offer you a solution for tubes at the highest level.
On request, we can combine this with product marking, as well as optical, contactless camera control systems for comprehensive control of geometries or surfaces. The option to punch holes can also be integrated, as well as transfer lines to achieve the shortest possible cycle times or system for loading and controlled unloading, for you very own, tailored automation solution.
Your benefits at a glance
Plug in and Produce!
With t motion you are production-ready from the start and flexible too in batch productions. Without any time delays.
Customizable
Further process steps, like loading and unloading systems or additional tube processing tasks can be integrated without any problems.
Industry 4.0
Interfaces with data caption systems for consumption and operation make the digitalization and evaluation of the data.
Fast and accurate
The high degree of automation means fast cycle times and therefore efficient manufacturing.
The modules to automate your tube processing
The width of our t motion solutions includes the whole spectrum of automation of your production, starting with the automation of single processing steps, like loading and unloading, to the reduction of the manual interventions and even completely self-sufficient automation cells.
Custom-specific combinations of our tube bending, tube forming or tube cutting machines can be achieved without any problems. We can also offer you a large number of loading and unloading options, as well as different handling systems, to give you the automation solution of ours that is the best match for your requirements and circumstances. The automation of third party equipment is also possible with t motion.
t motion: Reliable process at every stage
Experience high tech and flexibility combined in one modular principle
Loading systems
We offer a great variety of loading systems for all the machines, dependent on the material, tube diameter and tube length. Tubes that have already been formed and with added components can also be loaded without any issues. The appropriate orientation is therefore very important, when loading the tube into the production cell. External workpieces, such as nuts, flanges, supporting sleeves can be added to the system in a controlled manner and included in any subsequent processing steps. A great variety of loading volumes is possible.
Overview of possible loading systems:
Step feeder
Conveyor feeder
Chain feeder
Swivel arm feeder
Loading tables
Bowl feeder
Alignment station
Various loading systems in operation:
Handling and gripper systems:
The right system for every need
There is a great variety of handling systems available, dependent on the length of the workpiece. For short tubes there are systems gripping from below with insertion axis and for long tubes there are systems handling from above. Both options can be used in our combination systems. They guarantee ideal access for the operator, so they can complete the set-up and any maintenance operations in the best possible way.
Handling robots can be integrated
Transfer stations, turning modules for processing the tube in both directions within an installation and multiple grippers are available for optimized processes. Handling robots from many different manufacturers can also be integrated. The robots are used to move tubes/workpieces. A pre-assembly of different workpieces is also feasible in this case. The various components can be sorted using sensors and robots. A number of unloading systems are available. The workpieces can be unloaded and positioned either in specific way or in an unspecified way. In addition, the transfer to downstream process is also an option.
Overview of possible gripper systems:
Overfloor handling
Underfloor handling
Combination handling
Rotating module
Outer gripper
Inner and outer gripper
Length measurement
Handling robots
Swivel arm feeder
Unloading station
Different handling and gripper systems in action:
Additional tube processing systems:
Labelling systems can be integrated, whether it is laser, needle or inkjet, to mark and identify the tubes. Other options that can be integrated are welding seam detection, length control or measurement of processed tubes. The corresponding sensor and camera technology can be implemented for the specific product. The following step can be carried out without any problems, whether it is cutting, punching, deburring of holes or seal testing with external systems.
Smart data evaluation
All the systems can be equipped with different control and IPC panels. Interfaces to data caption systems for consumption and operation make the digitalization and evaluation of the data.
Overview of possible handling systems:
Marking system
Welding seam detection
Camera control system
Internal and external cleaning processes
Cleaning and suction
Hole punching
Deburring – chamfering
Various additional tube processing systems in action:
Customized to meet your requirements, we offer automation, from simple tasks to complex automation cells.
Experience our automated solutions in action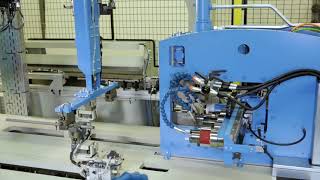 t motion: Fertigungszelle für Ölmessstabführungsrohre
t motion: Fertigungszelle für Automotive-Abgasrohre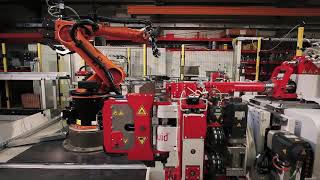 t motion: Flexible Fertigungszelle für Kleinserien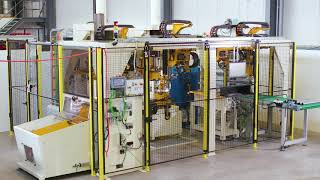 t motion: Fertigungszelle für Stoßdämpfer Außenrohre